Archive for the 'the beatles' tag
I meant to get to this post a while ago, as the stench of 2016 (the year of shocking deaths and depressing Facebook posts) was still in the air. As I read the outpourings of appreciation for David Bowie, Prince, George Michael, Glenn Frey, Leonard Cohen, George Martin, Merle Haggard, Alan Rickman, Carrie Fisher and other people who were important to my people, it occurred to me that it usually takes a hero's death to bring people to their keyboards to write out what they appreciated about that person. It's disappointing that the artist can't receive any of it, and that for those discovering these artists for the first time, it was just as the artist died. Boo.

That's why I decided to fire up this ancient blog and start a new series called "Praise Your Music Heroes Before They Die." I plan on gushing without reservation (ok, maybe a little reservation) on the bands that are important to me — before they've gone and kicked the bucket in headline-grabbing rock-star fashion. This way, if you're not already familiar, you can start getting into them while they're, you know, actually doing things (1).
But here's the bigger picture: If someone reading one of my diatribes is inspired to gush about one of their own favorite artists, then someone else, and so on, then the act of writing out our appreciation for great artists will extend beyond the event of them dying. And that will be cool.
Now on to the Libertines.
My first entry is on probably my most treasured music hero. The Libertines are a London indie group consisting of dual singer/guitarists Pete Doherty and Carl Barat, drummer Gary Powell, and bassist John Hassall. I found them in college, reading about them in Rolling Stone while sitting on a friend's couch with a chinchilla. Something struck a chord, and I grabbed their I Get Along EP at a Tower Records the next day. They blew a refreshing blast of unpretentious, foreign indie rock into my universe, which at the time was crowded with overproduced emo bands, metal-ish aggro rock, and punk bands that swung dangerously close to being cute. Hey, it was NorCal.
Today, the Libs continue to take up valuable real estate on my phone — and trust me, storage on that device is at a premium when baby pictures are in the mix. Even the Zombies and the Beatles suffered deletions to make space. Not them.
Here's why:
They're rough … but fun rough. I don't mean sucky. I mean too busy having a good time to worry about acoustics.
Read the rest of this entry »
As I mentioned in yesterday's post, my new hobby is venturing into the suburban wilderness of Southern California and recording songs on acoustic guitar using my iPhone, in selfie mode.
I usually aim for locations with no visible civilization — no cars driving by, no buildings, no sidewalks. I think a nice backdrop does the song justice, moreso than bedroom walls do. Of course once the recording is done, you can almost always hear the far-off buzz of traffic in the background, along with whatever other noises happen to be going on. This is OK with me, though, as it adds a little bit of "real world" to something that is so often geared specifically for social media. It also seems to turn out pretty damned relaxing to watch.
This was, I think, my third attempt at recording this song. I tried a couple of times before to tack it into the end of another recording, but was always out of juice by then. You'd be surprised how tough it can be to get through a song, even one you know thoroughly, without screwing it up.
Anyway, enjoy.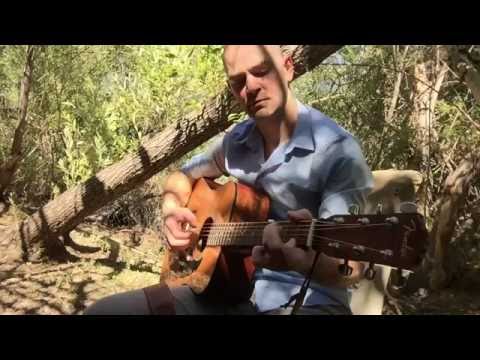 As I record other songs, they will be posted on the MD YouTube channel.
They may be approaching decrepit geezerhood in terms of rock years. Their mention may time-stamp anyone as a "'90s kid." (That's lame, right?) But it can be said with absolution and from a totally righteous standpoint that after almost 25 years of being ridiculously musical wankers, Blur remains the badass.
Actually, for a band that has churned out solid Britpop glory for most of its career, including one of the biggest '90s radio hits ("Song 2," known to rock ignoramuses as "Woo-Hoo"), Blur is still a fairly well-kept rock and roll secret – at least if you're on this side of the vast aqueous barrier that shields North America from all of the drunken Oasis fans.
Whenever I'm at a party or a Queen's Luncheon and I bring up Blur, I get one of two responses:
a) (Contemptuous smirk) Blur?
or
b) (Slow, solemn nod) Blur…
This usually depends on whether or not I'm talking to one of the aforementioned rock ignoramuses. And it's because of "Song 2."
"Song 2" is kind of like Radiohead's "Creep" (to recap an earlier post, most rock ignoramuses are unaware of any Radiohead material other than "Creep"). It's not necessarily representative of the band's catalog, but for whatever reason it is the only blip on most people's radar where the band is concerned. As a bonus, it's not really the sharpest song in the shed, so the consensus among rock ignoramuses is that Blur is a shallow, candy-pop one-hit wonder. Thus, there is a sizable divide between those who are aware of Blur's legacy of badassery and those who blithely deny it.
To remedy some of this ignorance, let me try with this humble post to explain the brilliance of Blur for the benefit of those who weren't previously aware, or might have even doubted it. (Those drunken, Blur-hating Oasis fans can be pretty confident en masse.) If you are already aware of Blur's awesomeness, this will simply sharpen your awareness, and maybe send you on a tear listening to all of their albums in your car for a week. It's a plus either way.
Here are several reasons why Blur is a bastion of stone-hewn coolness:
Read the rest of this entry »
The world is filled with rock icons who are either aging or live perilously close to the edge, and I would be lying if I said I didn't wake up each day a little worried that one of them will keel over.
Not that the ones on this list are the only ones I worry about — any rock star death warrants sitting on my couch all day with a handle of Jack and a tub of ice cream watching "Almost Famous" over and over — but there are a few special souls who would definitely make me lose it, and probably a lot of other people, too. Dammit, Michael Jackson came close.
Here are ten rockers whose deaths would make us lose it faster than our inheritance in Vegas. God forbid.
10. Ozzy Osbourne
. This gentle, funny, formerly evil rock legend has gone from being the definition of rock mayhem to the definition of man-cute. He's also the king of perseverance — his awesomeness wasn't diluted by an entire reality series about his annoying family. He even manages to seem cool in commercials about cell phones and oil-based butter spread, acting confused and shouting "I'm the prince of fucking darkness" at the air. A world without Ozzy is a world with no rock and roll mentor. When he goes, bands will dissolve out of respect, and the news will be flooded with man-made catastrophes and mass suicides. Kitties and doggies will weep.
9. Ringo Starr
. "The goofy one" (presently "the posh one") seemed to have a definite air about him during his Beatles career. It was a sort of blind joviality, with the slight appearance of being confused over what was going on at any given time. It especially came through whenever he provided vocals, where he sounded like a musical version of someone's dad. These days he's enjoying coolness with his designer shades, Don Johnson stubble and ever-present peace signs, but geez, look at any
photo
of him. He's still Ringo. The day there's no more Ringo will be the day there are no more rodeo clowns, doctor's office lollipops, corporate meeting donuts, or anything else that makes a serious situation fun. Long live the goofy one.
Some random revelations that came from listening to Internet radio stations at work (a work-in-progress, watch for sudden changes):
Thom Yorke definitely seems to have gone through a "whiney, screamy acoustic version" period. Meh.
After a long time, yes, it is possible to be sick of hearing the Beatles.
Pandora can play long sets without repetition, but not that long. I'd say the euphoria dies around the 4-hour mark.
John Mayer sounds like a rock and roll version of Dave Matthews.
David Byrne struggles a bit to hit that high note in "Psycho Killer" when he sings it live, but he's a badass for not lowering the key.
In any group of people, young and old, there is always the "metal guy," and he's not who you think. Don't let him control the station.
Some '70s group covered the Rolling Stones' "19th Nervous Breakdown" and slopped it up, and I don't know who they are. Must look into this further.
New Order's "Blue Monday" is catchy, but also long and redundant. I don't know why so many bands have covered it. Note to self: If I start a band, don't cover "Blue Monday."
God, the Strokes are undeniably awesome, and I'll wall-slam anyone who disagrees. Try me.
Also on the Strokes: Ignorant people sometimes bag on Fab's drumming, but I believe simple and steady outperforms fancy and flamboyant any day.
The Killers line "I got soul, but I'm not a soldier" is like a grotesque mustard stain on an otherwise halfway decent song. Must write band and complain.
Someone somewhere started a "sad, high-pitched girl singer/pianist" trend, and then everybody started copying it. Boo, hiss.
The first time I saw Daniel Earwicker he was tearing through a cover of the Smiths' "How Soon is Now?" on an old Rickenbacker. He was doing it without vocals, so the screaming lead guitar poured in like a crashing wave. I thought he was impressive for a guy with no head.
The people who watch Earwicker play, in fact, usually only see him from about the shoulders to the knees. That's because his primary audience is on YouTube, where Earwicker, 36, has established his presence as a self-contained Internet band, complete with a growing base of rabidly loyal fans. (Me: guilty.)
His band is the Primrose League, and the lineup is as follows: Guitar, Daniel Earwicker; bass, Daniel Earwicker; drums, Daniel Earwicker; vocals, Daniel Earwicker. Production … you get the picture. He records on his home computer in the south of England, videotaping himself on each instrument. He then cuts it all together into a homemade music video, featuring himself as all players. As of yet, he has about 14 original songs in his catalogue, which he's made available in album form to anyone who wants them. And yeah, they're good.
"I've never sent a CD off to a record company or anything like that," Earwicker said over an email interview last week. "YouTube is the first time I put music out to somewhere that the general public could find it."
At first, he said, he had only posted a few covers to his channel – a pretty common phenomenon among "headless" YouTube musicians. He only began posting his own material at the request of listeners, never imagining people would start following him.
It's almost second nature for musicians to write about drugs. Especially when you're dealing with rock, where the idea is to do what everybody tells you not to do, and make it look like it's cool. This is probably where spandex came from.
The catch is that musicians aren't supposed to openly write about drugs (except in the case of rap, where it's encouraged). They find metaphors, and usually those metaphors are about as complex as John Wayne dialogue. Everyone knows about the La's "There She Goes," i.e. the heroin-as-girl metaphor; or the Beatles' "Happiness is a Warm Gun," whose "shoot, shoot" euphemisms all but sell the stuff. The chemical factor in David Bowie's "Space Oddity" was even spelled out clearly in "Ashes to Ashes" with the line "We all know Major Tom's a Junkie," in case any of the kids missed the classic "floating above the earth" metaphor.
With songs like "Hotel California," "Under the Bridge," "Golden Brown" and "Comfortably Numb" all containing their crystal-clear to slightly hazy euphemisms, the list of artists who have poetically flouted their bad habits before the mainstream media is eons long.
But what about the more cleverly disguised songs? You won't convince me that the only heroin songs out there are the obvious ones. It's almost guaranteed that somewhere, some good-guy songwriter is kicking back, having pulled off such a well-disguised smack anthem that no one even noticed it. My mission is to uncover some of these sneaky writers. At the very least they deserve to be recognized for their ingenuity, and praised for fooling everyone.
The Osmonds, "Goin' Home" – This song is a prize winner. Show me a "track star" who's got a long road ahead of him, who has to fight to make it "home" if it takes him the rest of his life, and I'll show you a desperately hooked junkie. "I'm a space man from a different world," the song says, reeling dangerously close to Bowie's more evocative metaphor. "I've been gone so long that I'm feeling like a useless man." The song's energetic charge is enough to create a deceptive shroud of positivity, but if you really think about it, this is as strung out as Trainspotting.
As Einstein once said, the secret to creativity is knowing how to hide your sources.
In other words, if no one can figure out where your inspiration came from, then whatever masterpieces you've created are attributed directly to you, making you a creative genius.
Musically speaking, a band can take full advantage of this axiom, if they're clever enough to weave together a collage of influences to create a sonic concoction to which no one can point and say "hey, that sounds just like that Black Rebel Motorcycle Club song." If you can do that, then sweet, you've created an original piece of work.
Or this axiom can be the sword your unimaginative ass falls on after you plunk your way through some mainstream guitar ballad everybody has already heard, turning down-tuned F7 chords into open Es and ad-libbing from Internet-sourced lyrics before pressing it onto 40,000 silver discs and littering the sidewalks of Hollywood with hopeful, paper-wrapped debris.
When it comes to acoustic covers, it's a tough call which side you're going to fall on. It seems to come down to whether your aim is to discover a new aspect to someone else's song that no one might have noticed yet, striving to capture it with only your burning, tortured soul, a minimal of instrumentation and countless nearly perfect takes. Or…whether your aim is to realize your teenage fantasy about banging out your favorite band's song on a plastic-backed Ovation, hoping the girl you were crushing on in high school has a radio in her cold, lonely trailer park home and suddenly notices you after all these years, and finally contacts you through your Myspace account. On which you've had said song posted in hopeful anticipation for the last eight months.
Thus, there are good acoustic covers and bad ones. The line is thin, it doesn't take much to cross it, and once you have, you're either a creative genius or Bright Eyes.
This is partially intended as an addendum to the recent rant on bland retro-popheads, titled "When did the World Get So Unoriginal?" by esteemed [former] CinemaBlend music editor Mack Rawden. I'm wholeheartedly agreeing with his main thesis (albeit without judgment against J.K. Rowling, because I freaking like Harry Potter). But I'm adding one significant point.
And naturally, we will get to it via a quick story.
There I was, with my beautiful girlfriend, watching the Stone Temple Pilots' June show at the Hollywood Bowl. We're both into them, even the albums no one really likes (No. 4 and Shangri-La Dee Da). So we had at least a handful of songs we were waiting to hear.
About 10 minutes into the set, the obligatory wave of fashionably late bros and sorority chicks showed up. This element was expected, since due to some cosmic theorem they make up about 85% of the band's following. But I was completely bewildered, and even disappointed, when during the ¾-set arrival of "Plush," a group of sorority girls nearby suddenly got all antsy, huddling together in a secret conversation until one of them finally turned to the people next to them and said, "Oh my god, what's this song called?" At first I thought I was hearing things. But then it happened again, during "Interstate Love Song." My jaw was floored.
I get it: some people's memories of these songs are a little dimmed by lite beer and accessory distraction (I might have heard someone singing the lyrics, "Driving on a Sunday afternoon / I swerve my Bug between the lines…"). But someone just spent $50 on tickets, fought traffic and crammed into a packed bleacher row without knowing the names of the band's 16-year-old major radio hit singles. It seemed like a big monkey wrench just got tossed into the logical fandom gears somewhere. What was wrong here?
Then it occurred to me that the world's sea of music fans might be a lot shallower than I had previously thought. Do some people pretend to be into bands? Do some even pretend to be into music? I decided this needs to be explored further.